TeamTPS Updates April 2017
TPS is proud to welcome Victor Biryukov to the team.
Victor is a beast.
Here's a little about him:
Victor Biryukov was born July 28, 1986, in Ust-Ilimst, Russia. At the ripe age of 15, Victor started down the long path that would lead him to beat multiple world records in powerlifting for his weight class.
Throughout the majority of his schooling, Victor tried a variety of sports: volleyball, basketball, boxing and martial arts.
No matter how hard he tried, nothing really stuck as a true challenge to him. In the winter of 2002, he entered the gym for the first time.
Victor was a skinny, weak individual – a far cry from the man he is today. His first squat was an empty barbell for 4 reps that he struggled through with terrible technique.
It was challenging for him, but he enjoyed the thrill and the notion that his own body was his biggest obstacle. Within three months, Victor was able to squat 220 lbs. for 4 to 6 reps.
That November, Victor attended his first meet with a squat of 440 lbs., 220-lbs. bench and 440-lbs. deadlift in the 148-lbs. weight class.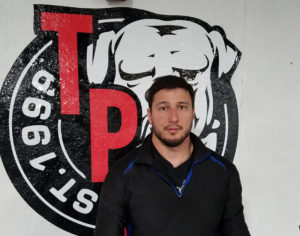 The following year, in May of 2003, he finally placed in a championship competition, winning third place. Four months later, he won first place.
It was very evident, very fast that Victor had found the raw, challenging sport that he had been looking for.
Every year since, Victor has gotten stronger and better in all of his lifts, winning a gold medal in the World Junior Championships in 2004, breaking five state records at a championship in 2005, and winning first place the Championship of Europe in June 2006. Victor had earned his Master of Sport International level qualification in Russia.
In 2009, under the tutelage of Sergey Fedosienko, Victor returned to powerlifting after a three-year hiatus to complete his college degree in economics. His squat at this point was up to 770 lbs., breaking many state records for the 181-lbs. weight class.
Since moving to the United States in 2011, Victor has been competing in powerlifting competitions all over the nation.
In 2012, he won first place at the Raw Nationals (ADAU Federation) with a world record 600 lbs. raw squat, breaking the record at the next meet two months later. Then Victor became a USPA federation member. He competed at a couple of local meets and later won Raw Nationals at 220 weight class with good numbers 1900+lb. in total, and he set a new raw World Record Squat 727lb (in sleeves).
During his next preparation for Worlds he got his first serious injury. His lower back was so bad that he couldn't walk for 2-3 months but didn't want to stop his powerlifting carrier.
After few months, he slowly started coming back. His life also changed substantially as he moved to Boston.
He competed at another local meet Battle of the Bay 3 and finished with a huge total: 2044lb. at 242lb. And he broke another Classic raw squat World record 816lb.
Victor now resides in Boston, Ma. And trains here at TPS. He's currently preparing for the BOSS of BOSSES, which will be in August in California.
His personal motto is "last set, best set."
HIGHLIGHTS

2003 Junior Nationals – Gold Medal
2004 World Junior Championship – Gold Medal
2005 Siberian Cup – Silver Medal
2006 Championship of Europe – Gold Medal & International Master of Sport
2012 World Raw Powerlifting – Gold Medal & World Record in Squat (611 lbs.)
2015 Nationals – Gold Medal & World Record in Squat (727 lbs.)
News from Lodrina: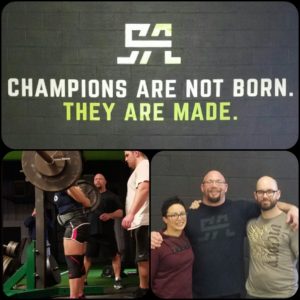 The last two years I have made a winter trip to Columbus, OH to compete at the Arnold Classic. This year with no competition plans I traveled to Columbus a week before the Arnold for the EliteFTS Sports Performance Summit and a Reflexive Performance Reset (RPR) coaches clinic.
The trip started on Friday with visiting JL Holdsworth at his gym, The Spot Athletics to get RPR work performed on me. I'd been reading plenty about the system and the great immediate effects it can have on athletes but wasn't really sure exactly what it involved. After an hour of talking about the system and getting worked on I will say that it all starts with breathing and then performing "wake up drills" for your muscles to get your body working in an optimal fashion. It is truly something that must be experienced to explain.
This was followed with squatting a heavy 5 reps x 3 sets. To put a weight on my back I've never squatted for 5's and then do it for multiple sets is a result of my programming, to do it after an early flight and with ease I think was due to the RPR work. It's like getting a video game "power up," enhancing the work you're already doing. A good preview of what I was to learn more about later in the trip.
Saturday was the EliteFTS SPS event held at Ohio State. About 200 strength coaches from all over the country spent the day listening to three NFL S+C coaches talk about weight room management, systems, and fundamentals. There were also presentations from two doctors about assessments and health/nutrition considerations in training and a closing message from Dave Tate. Lots of valuable takeaways and the day flew by.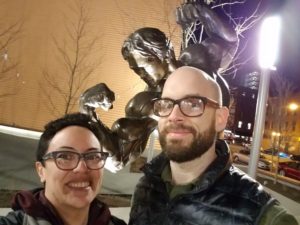 I was joined by my husband Jeff for the RPR clinic on Sunday where we spent the day learning the system from JL, Chris Korfist, and Cal Dietz. These coaches have been using the RPR system, originally as Be Activated, for a number of years to great success. We learned about breathing and strength tests, then the wake up drills that can help optimize movement patterns.
We came out of the RPR clinic with an RPR Coach certification and with skills that can help improve movement and help bring an athlete from a sympathetic to a parasympathetic state. It has been interesting seeing the varying effects on different athletes who have been through the resets and the huge impact it has had on each of us.
Overall a great trip out to Columbus with a lot of skills and knowledge that I was able to bring back to Boston for use in my own training and more.
If you want to experience RPR just ask or visit https://www.reflexiveperformance.com/
World's Strongest Granny: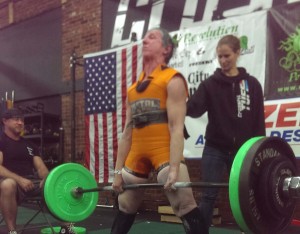 Jane just competed at an APF meet in Maine.
She did well, but this was just a qualifying meet, so we won't bore you with the numbers.
She was tactical and had the big picture in mind: Nationals. Goal achieved, she qualified.
I will bore you with all the information after she dominates at Nationals!
There was some pretty cool local news coverage of the meet there.
See the ABC news coverage here.