One major attribute of a Sheiko program is the double sessions of lifts within a single training day.
For example, a lifter may begin with squats, and then bench, and then return to squats.  The Sheiko system utilizes more sets and fewer reps to get the higher volumes.  This way of splitting it up allows the lifter to keep technique fresh.  It also forces the lifter to complete fatigued repetitions.
Understanding how much fatigue is accumulated within this training day is what we are going to discuss today.  We will use a real life example from one of my lifter's.  Grace completed squats as follows:
50%x5
60%x4
70%x3
85% x2 RPE 8
85%x2 RPE 8
85%x2 RPE 8
These RPEs fall within the correct range of Mike Tuchscherer's chart.  85% for 2 reps should be an RPE 8.
(This is an old chart but we are using it as we do not want to see technique break down. Sheiko calls this extrapolation. We want to train the same movement pattern over and over; as this leads to a more stable movement pattern. Unstable movement patterns deteriorate faster under stress due to already being broken movement patterns.)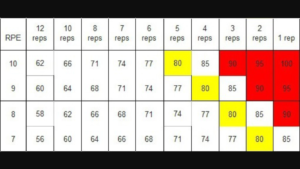 In this situation this chart is correct for Grace.  After these squat sets she benched and then came back to the following squats:
50%x5
60%x4
70%x3
75%x2 RPE 8
75%x2 RPE 8
75%x2 RPE 8
75%x2 RPE 8
As you can see the RPEs for doubles were the same for the squats at 75% as they were at 85%.
According to the same chart, doubles at 75% should be roughly an RPE 6.  This means for this squat session that Grace accumulated 8 fatigue points.  This is a lot of points for a training session.  The goal of calculating fatigue points is to measure the fatigue accumulated within a training week and to use them to advance training appropriately.
The following week on this same day the lifter will have choices based upon the results from this training day.  These will look like the following:
If Less than 5 fatigue points
Squat
55%x3
65%x3
75%x3
85% 3×2
Bench press
Squat
50%x5
60%x4
70%x3
80% 4×2
If more than 5 fatigue points the lifter will complete the following:
50%x5
60%x4
70%x3
80% 5×3
Bench Press
Leg Press
5×6
In this case Grace would choose the second option.  The overall intensity would increase from 66% to 70%, but the volume drops by 11 lifts.  This option will still accumulate some fatigue with Grace, but not to the same extent as the previous week.  We will make up the difference in volume by adding in some leg press.
On the 3rd week of this block we could repeat the exact same squats as we did week 1 and see if it is now easier for Grace to complete.  If it is we could move onto option 1 from week 2.  If option 1 from week 2 goes off smooth on week 3 we could add 70% 2 sec Pause on the Halfway Down Squat for 5 sets of 3 first and follow it up with the 80% squats for 4 sets of 2 after bench for load variability on week 4.  This allows for proper progression from the athlete.
If I program option 1 from week 2 after the week 1 squats that accumulated 8 fatigue points, she will begin to accumulate even more fatigue.  At this point we may see a decline in technique.  Accumulating fatigue is not bad, but the more we accumulate the longer that it takes to dissipate for us to realize our new acquired strength.  We continue to accumulate fatigue without proper recovery and we can see a plateau or decline in performance.
There are still plenty of lighter days programmed in to allow for recovery.  This is why the athlete accumulating as much as 8 points is not a bad thing.  Grace only has light deadlifts on day 4 totaling 19 lifts, far below her baseline.  This will allow her to recover and be ready to train the following week.  Fatigue points will not be used (currently) to alter training numbers of the current day, but only for progression and appropriate load variability.
The lifter is allowed to add bar weight if the sets are so easy that they can get 4 or more repetitions.  If they could not do 1 more repetition then they are to remove bar weight.  We do not want to reach failure on sets as this accumulates more fatigue then stopping a set with a rep or 2 in the tank.  We want the correct amount of stress on the athlete, not too much or too little.
This system will allow us to progress training when appropriate and to pull back the reins when we need to.  This will allow to a more efficiently planned training block than if I was just guessing when to progress training.  Over time this will yield much better results than the already good results that we are getting.
Written by: Kevin Cann