TeamTPS Athlete Updates: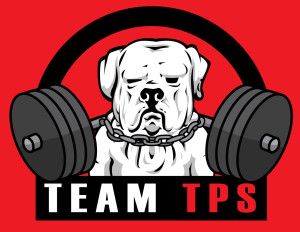 TPS Coach Candace Puopolo walks the walk.
She competed on April 23rd in Cincinnati at the SPF Women's Pro Am and put up a huge total.
Candace finished the day with a:
385 Squat
240 Bench Press
420 Deadlift
1030 total at 132 pounds!
WOW!
Victor Biryukov: Elite Ranked Powerlifter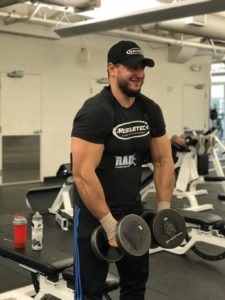 Victor competed at Battle of the Bay 3 in the beginning of March.
Right he is on an "unloading" month where, according to him; "I don't lift any really extremely heavy weights, I do a lot of volume with light weighs."
From Victor: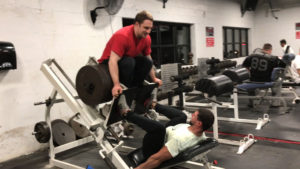 "Heavy lifts from this month was Rosty presses (pictured) 1015lbs x 10reps.
I decided about my next competition. It will be Boss of the Bosses 4 in San Francisco, Ca., and I'll compete at 242lb. Classic Raw Powerlifting.
My body weight is 220lb right now, so I have to gain at least 22 pounds during next 4 months.
I'll start my prep in June."
Nick Cambi: Lightweight Pro Strongman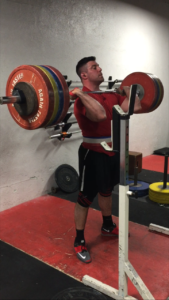 Nicky "Catz" Cambi informed me that he is planning on doing the following events this year:
Clash of the Titans – Amateur Heavy – August
America's Strongest Man – 105kg Pro -September
NAS Nationals – Amateur Heavy – November
Worlds Strongest Man – 105 kg Pro – December
He's also been training his arse off and recently hit a hitchtastic 700 pound deadlift and a 440 pound front squat.
WOW!
He is focused on staying healthy and smashing huge PR's.
Lodrina Cherne: Elite Ranked Powerlifter
(In her words)
I am currently training for my next meet, USAPL Nationals in May in Orlando. As with my last few meets, this will be an equipped single ply championship. I will be lifting in the 63 kg. class along with TPS member Sophia Veiras.
Most of my training has been raw and I am just starting to get into my suits and shirt about 12 weeks out from the meet.
What's been nice to see is how much my raw lifting has helped my equipped training. Handling heavier weights raw and a huge focus on technique has allowed me to train, in my first equipped sessions, with the heaviest weights I handed in my final training sessions this time last year.
In these final few weeks of training I'm focused on recovery and nutrition as much as lifting and am looking forward to seeing how everything comes together.
Rosty Kharchenko: Elite Ranked Powerlifter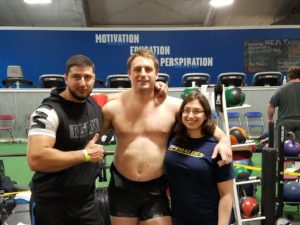 (In his words)
Hello true believers,
Haven't posted many updates lately due to a quickly approaching competition (RPS NH/Vermont State Championships). But now it's done and I can give a quick recap and draw some conclusions.
Prep for this competition wasn't very different than my usual peak for competition. I wasn't fighting any severe injuries, only an old chronic knee injury that I've had since 2010.
As usual I didn't go too heavy on squats; the highest number I hit in the gym was 550 for a triple back in January. During the actual peak, I only went as heavy as 530 in training, and my opening attempt was 575.
So, you see, you don't have go too heavy on squats before the meet if you know your body and you're confident enough.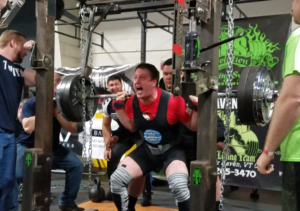 For bench press, I hit my opener at 400 in the gym and was comfortable with that.
For deadlift, I had one heavy workout where I was supposed to do triples with 565, but unfortunately managed only singles.
So, going into the meet I was pretty confident in my openers.
Squat and deadlift were a bit tricky, but I had all the assurance in bench press.
Arriving to RPS NH/VT State Meet on April 9th I weighed myself at 236.6lbs, which was a bit lighter than I expected, but not too far from my highest meet bodyweight of 239. Probably due to nerves, I shedded a couple of pounds.
It was my 13th or 14th powerlifting meet, but I still get the shakes before meets.
The venue that hosted the meet was quite spacious actually; lots of room to warmup and stretch before attempts.
Squats.
The last warmup of 555 went fast and gave me the required confidence in my opening attempt of 575, which also flew. The goal for this meet was to match my numbers from a year before, when I had an exceptionally good prep cycle.
So, for the second attempt I choose a 30 pound jump to 605, which also went well.
For the third, I wanted 635 to tie last year's result, but my handler told me to go a bit lighter based on the speed of the second attempt. I listened to his advice, and went with 630.
That was a good call since I had to fight for that one; my lower back gave up a bit out of the hole so it was a willpower attempt, as we call it. But 630 in the books.
Bench press.
I was very confident in this lift until I started warming up and every warm up set felt heavy. I wasn't sure what the problem was; missed peak, different equipment than I was used to or just fatigue from squats.
Regardless, my opening attempt at 400 pounds felt like a second or third, which threw me psychologically.
It was a good lift though, but instead of going to the planned 420 on the second, I added only 10lbs, and missed that.
It was very frustrating since I poured everything into that attempt.
I declined the third attempt, the first time I've ever done this in competition.
But if it's not there's nothing you can do about it.
After certain number of meets you can listen to your body and know when to pick your battles. Bench wasn't there on that day and I accepted it.
Still 400 in the books.
Deadlift.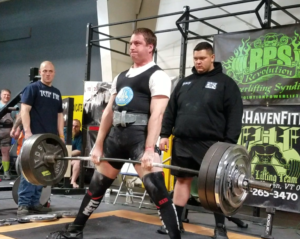 Last lift was the complete opposite from how bench press went.
Every single warm up set flew faster than on any workout during the prep cycle.
Last set was 545 and it went fast and crisp.
Opening at 575, easy and confident.
Same plan as on squats, adding 30 pounds to 605. It felt a bit heavier but still very confident. I wanted to go to 630 or 635, but we decided to go a little conservative due to the fact I tend to hitch the weight on third attempt, and even if I can get it all the way through, it's a gamble if I'll get it from the judge's standpoint.
So, we went with 620.
Only on this last attempt, I managed to get hyped enough to actually get in the zone. 620 was heavy off the floor but easy on the lockout. I could have gone for desired 630, but it doesn't matter at this point.
Total of 1650 – not what I planned, but I got the maximum out of my body on that specific day.
Big shoutout to TPS Malden and all my friends who helped to make this total happen.