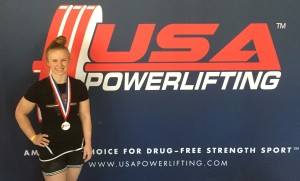 Alyssa Frey Killed It.
Alyssa Frey keeps getting better.
She competed last month at the USAPL Liberty Games Powerlifting meet in Albany N.Y.
She weighed in at 148 pounds and smashed the following lifts:
Squat 1: 248
Squat 2: 264 (missed)
Squat 3: 264 (PR)
Bench 1: 121
Bench 2: 132
Bench 3: 143 (missed)
Deadlift 1: 292
Deadlift 2: 308
Deadlift 3: 325 (missed)
Alyssa hit a PR total of 704 pounds for FIRST place in the 72 kg. Junior division!
Another great job.
Congratulations Alyssa and thanks for representing TPS at the meet.
Big Day for Liz!
Liz Wahlman of TPS competed a few weeks ago at the USPA National Championships.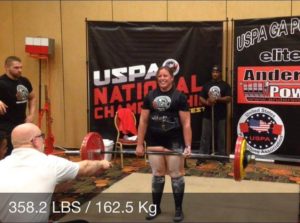 Here is her account of what happened:
On Saturday July 16, I competed in the US Powerlifting Associations's Drug Tested Raw National Championships in Atlanta, Georgia.
This was my fourth powerlifting meet ever, and my first at the national level.
I was very excited to represent both Boston's Strongest and Team Goggins Force.
I weighed in at 87 kilos (about 191 pounds) and lifted a total of 821.2 pounds (372.5 kilos).
That's 40 pounds more than what I lifted at my last meet in March of this year.
I squatted 314.2 lbs./142.5 kgs.
benched 148.8 lbs./67.5 kgs.
and deadlifted 358.2 lbs./162.5 kgs.
I was really happy that I went 9 for 9 and hit meet PRs on all of my third attempts! I also took first place in my weight class.
The whole experience was amazing, and I met some truly awesome people.
The ladies I lifted with are some of the kindest and strongest people I've ever met, and I was continually amazed to see how much everyone supported each other in what is a very individual sport.
I'm honored to be part of a sport where women uplift and lift heavy, and I can't wait to see where I go from here! I'm also extremely grateful to my coach, Steve Goggins, my training partner, Lodrina Cherne, and my gym, TPS Malden.