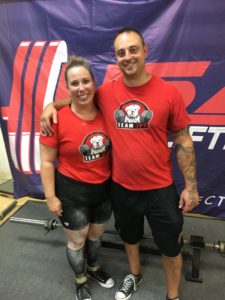 Danielle Bond just killed it!
On July 22nd, former TPS coach, and current Team TPS lifter, Danielle Bond competed in her first USAPL meet. Danielle has competed in three RPS meets, but wanted to test herself against the strongest raw lifters in the country at the USAPL Raw Nationals. To do this, Danielle would need a 400kg total at this meet.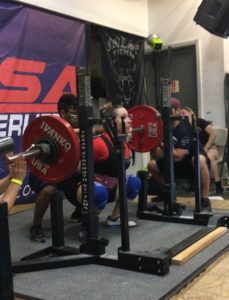 Danielle's squats went very well. She was poised and confident and consistent with each repetition from her first warmup up through her third attempt of 145kg. This was a conservative third attempt as she had hit a larger squat on her test. However, the goal was to qualify and save energy for a third pull if necessary.
The gym temperature was getting increasingly warm as the day went on. Gleason Performance had shut down for a day during there week due to the heat and it was 92 degrees outside. Danielle's flight had only eight girls and was moving fast and this was concerning. At the end of the day I feel like the heat affected me more than it affected her.
Bench warmups went quick and we were ready to hit the platform. Bar gets unracked on her opener and there is a delay to the start command. Danielle stayed poised and after the delay smashed her opener. I asked the judges what the problem was and they said her feet were not flush on the ground.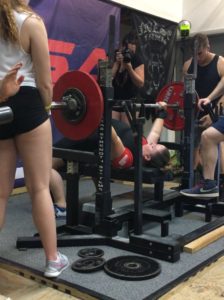 We made the adjustment in the back for the second attempt. However, this adjustment was made to no avail. There was another delay with the start. Not a problem for Danielle as she smashed the second attempt anyways. We were on to our 3rd attempt of 87.5kg. This is roughly 187lbs and she had hit 195lbs easily in the gym. She locks the weight out no problem, but 2 reds for her butt coming up.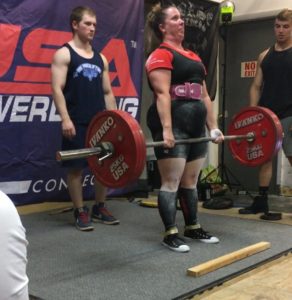 This was not a problem. I wanted Danielle to qualify for nationals on her second attempt deadlift. This gives her a second chance at it on a 3rd just in case. The opener was very conservative so adding 2.5kg to it was no big deal. Danielle easily handled the opener. The next lift was the biggest of her very new lifting career. This deadlift would put a stamp on her making it to Raw nationals.
She smoked the deadlift and ended up hitting a meet PR of 175kg or 385lbs on her 3rd attempt. Congratulations Danielle, go get them in Orlando in October.
By: Kevin Cann