Javier Escobar just got accepted to be a Tough Mudder Ambassador.
This is a pretty big deal in the TM community.
Javier trains his ass off, is diligent about his nutrition and spreads the word of fitness all over.
Exaclty what we love in a TPS member.
See, not everyone is a powerlifter here!
Watch this awesome video that helped him get in.

Tough Mudder Legionnaire from Leonel Escobar on Vimeo.
USAPL Worcester Open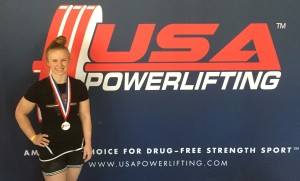 So I showed up at the USAPL Worcester Open last expecting to handle Alyssa Frey, Kevin Cann and Nick "Big Quiet" Santangelo.
Holy nips was I surprised when I saw about almost a dozen lifters from TPS.
I had no idea.
Liz Wahlman lifted and a bunch of others did too.
However, I am dumb and it was a long day so I don't have info on them.
Alyssa, Kevin and Nick CRUSHED it.
Alyssa set a PR on every lift and went 9 for 9.
https://www.instagram.com/p/BPS7E5Zg5Fc/?taken-by=alyssa72kg

Kevin did too.
Kevin told me that every class that had a TPS lifter in it took a 1st place win.
TO EVERYONE: In the future, if you are doing a meet, or did one, please let me now.
We'd love to share your success with our readers.