A giant congratulations goes out to my good friend, former training partner and TPS member Lauren Cohen.
He just set the World Record in the raw squat.
Lauren squatted 583 pounds at 165.
Read about it here.
Tough Mudder: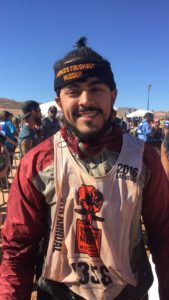 TPS member Javier Escobar has been kicking ass in Tough Mudder comps and he just did a 24 hour race, the World's Toughest Mudder.
Yup, a 24-hour race.
From Javier:
Hi Murph –
I just wanted to send you an email recapping my experience at Worlds Toughest Mudder, Las Vegas.
World's Toughest is a 24 hour obstacle racing event comprised of 20 obstacles over a 5 mile course with 24 hours to complete as many laps as you can.
This journey began for me late last year in November when I had a "Fuck It" moment and purchased my entry ticket followed by an "Oh shit" moment shortly after.
The stage was set for what has been one of the most incredible journey's I've ever faced.
My training consisted of purchasing a season pass to Tough Mudders across the country including NH, West NY, Pittsburg, Michigan,
and Wisconsin, and completing a total of 7 Tough Mudder events at 13 miles a piece or 91 total miles.
I would drive to most of these events in a rental, sleep a couple of hours in the back seat, wake up, and complete the events just to train that mental grit.
For World's I had gone prepared with plenty of energy gels, PB&J banana burritos, and energy powders/drinks to have enough fuel to keep going.
Most of which, however, I didn't eat relying mainly on the energy gels as well as a beef burrito and chicken teriyaki rice bowl I happened to purchase there.
Some of the gear I had taken with me included a 3 mm full wet suit and hat, a headlamp, compression gear, a tent, sleeping bag, just to name a few.
I also was fortunate enough to have the support of my pit crew member, Jessica (a member of TPS, so high five her if you see in the gym for me!).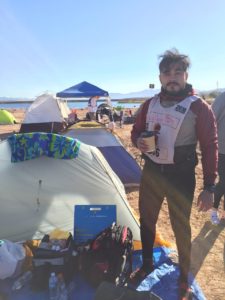 World's Toughest was in fact one of the most brutal bad ass events that I had the good fortune of completing!
A total of 7 laps (35 miles!), 120 obstacles, 10,000+ calories burned but I endured the entire 24 hours.
When the clock reached 12 PM and the gates opened for the first lap, everything suddenly clicked and I knew only one thing… JUST KEEP MOVING.
After the first lap it became brutally real that this wasn't going to get any easier and it was going to be a long 24 hours before it was all said and done.
During the third lap, I was preforming one of the obstacles called Double Rainbow which you complete by swinging from a T bar
to another T bar before landing on a platform below.
I had missed the second bar leaving me swinging back and forth while hanging on with only my right hand before I was able to reach for the next bar.
Unfortunately, a callous on my hand had torn open as I hung mid air causing very profuse bleeding that I feared I would be unable to regain my grip
and complete the remaining obstacles of the event. Luckily, I had an amazing pit crew member who was able to patch me up so well I was able to
continue pushing through.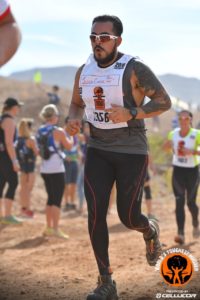 When the sun set it was time to switch into a full body wetsuit and windbreaker. Prepped and primed I was ready to go back out to hit miles 20 and 25.
During those two laps I had run into some friends I had made at Wisconsin's Tough Mudder (what are the odds?).
And they took me right into their pack motivating me to keep it moving and finish strong.
Finally, after completing 25 miles I decided to pit in, stretch, refuel and get some much-needed rest. Mile 30 was in sight after getting only three hours of sleep
and waking up at 6 AM to the sound of the most persistently annoying and yet, oddly enough still motivating bag pipe playing I've ever heard in a 24-hour period.
Tired, beaten, battered, and bruised I was able to muster up enough energy to complete miles 30 and 35, thus completing my experience at this event.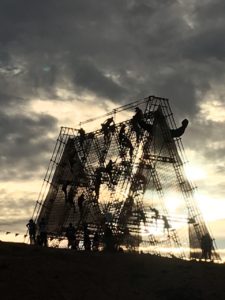 I can't do this event justice with these words, but this was truly an amazing experience that I had the honor of sharing with many world class athletes and positive like-minded individuals. All I can say is that I have already signed myself up for next year's World's and begun preparing so that I can hit that goal of 50+ miles.
Here we go again!