The TPS Method for Powerlifting team competed at the RPS 2017 Winters Wrath on December 2nd & 3rd.
We had some outstanding performance and progress from our lifters at this meet.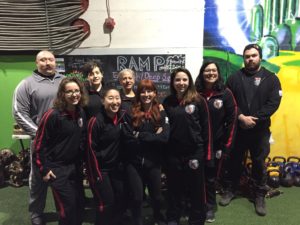 Here's the rundown:
Olivia Kotsopoulos went 9 for 9.
Squat 150
Bench 115
Deadlift 245
Total 510lbs
And a 55 pound Meet PR!
Emma Foos won Best Lifter at this meet.
That is a HUGE deal!
She also went 9 for 9.
Squat 220
Bench 145
Deadlift 315
Total 680
And a 45 pound Meet PR too!
Rose Solomon incurred an injury during the training cycle and lifted as Bench only instead of dropping out.
Rose hit a 110-pound Bench Press for a 5 pound PR.
Nicole D'Alessandro went 9 for 9 as well, seeing a thread here?
Squat 260
Bench 160
Deadlift 330
Total 750
And an 85 pound Meet PR!
Erin Erhart competed in her first meet with her new TEAM and went 9 for 9 too.
Squat 225
Bench 125
Deadlift 315
Total 665
TPS Method Coach, Cody Nadeau had a great day. He looked like hos last deadlift was about 50 pounds too light.
Squat 350
Bench 260
Deadlift 500
Total 1110
Cheryl Campo hit all PR's too.
Squat 240
Bench 150
Deadlift 350
Total 780
We are very proud of our TEAM and hope well they performed. They are getting ready for their next meet in New Hampshire in April where I am sure we will see more PR's!
A big thanks to Coaches Russ Smith, Candace Puopolo and Matt Buckingham for all of their consistent hard work and preparation, as well as their help the day of the meet.
Precision Powerlifting: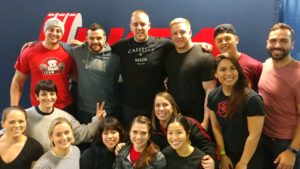 Kevin's crew had some stellar performances at their last meet.
Here's how they did:
Danielle Nguyen:
5 for 9
265 squat
143 bench press
250 deadlift
She took second place in the 63 kg. division in her first USAPL meet. Danielle had a bit of a weight cutting issue coming into it, but hit a massive 23 pound squat PR.
Kina:
7 for 9 in her first meet.
270 squat
126 bench press
and 287 deadlift
Grace Chang:
Grace went 9 for 9 in her first USAPL meet. She hit a:
204 squat
95 bench press
187 deadlift
And, she won the 52 kg. division.
Kerry Sachs is gearing up for the Arnold Classic in March. Kerry hit a 280 squat for a 10 pound PR in training as well as 130 on the bench press, a 5 pound PR, for a double. Time for training to ramp up a bit after Christmas.
We got a few athletes training for their first meet at the beginning of April as well as a big group at the end of the month which hopefully sees a few more lifters join the national squad.