Julian Vega of TPS Takes 1st Place at the Northeastern State Weight lifting Championships:
You know Julian, he works the front desk at TPS at 5:30 am. He just did his first Weightlifting competition and took first place in his weight class.
Here is Julian's account in his own words:
This would be my first Olympic Weightlifting competition, not only of the year but ever since beginning to take the lifts of the sport seriously. Seeing as I had a chance of taking first in the 77kg/169lbs category, which is naturally my class, I had to make certain that I stayed within weight until weigh-ins. Of course, I had only until Saturday the 20th while it had been Monday the 15th and I was sitting around 80kg/176lbs. 7 pounds may not sound like a lot, granted the majority of this had been water weight, but I had to make sure that not only did I make weight, I had to stay under it until the official weigh in. I've never had to cut weight for anything so this would become a journey on its own.
Leading up to the day, my training protocol actually didn't even follow that of competition prep due to the fact that I had signed up for this just a couple days out and had received both my USAW card and singlet on Thursday. I pretty much just performed the lifts for about 6-8 sets, 1-4 reps each at around 85-90%. This gave me an idea of where I should place my openers. This protocol was followed on Monday, Tuesday and Wednesday. After these days, I had given the lifts a rest and focused more on my weight. By Friday, I weighed in at 171.4 which surprised the hell out of me considering Tuesday I was 170lbs. This caused me to worry just a bit considering the competition was literally hours away and I still had 4-6lbs to lose in order to have a comfortable range to make weight. This is where Murph came in. After speaking with Murph, we decided that a 24 Hour Fast and no liquids would become some of the essential aspects for me to make weight and compete.
The next 24 Hours were the hardest I've experienced in quite some time, if not in my years of living. Have it be understood, I was under an extreme time constraint and although most should not be cutting weight on their first meet, I saw it both an opportunity to take 1st place and to actually know what most other athletes go through in order to meet weight for their own respective sports. I will say that for my next meet, I will be sure to actually be within the weight range well ahead of time because I will not be cutting again anytime soon. The constant reminders everywhere of food and water but not being able to indulge in either made it a much more mentally daunting task. It also has led me to become a much more gracious individual as well-so it's a take and give. Come meet day, at 10am I geo called into the room to weigh in, nerves and all…75,4kg. Immediately afterwards I head over to my duffle bag and start to rehydrate along with some breakfast as well. The referees called all ten lifters in the session, including me, onto the platform for introductions and we head off to the warm up area. I took all 3 of my snatch attempts at 70kg, 75kg and 80kg, going 3/3 on my snatches. Unfortunately, my Clean and Jerks weren't as well, going 2/3 with 100kg and 2 attempts at 105kg after missing the first. After hitting 105kg, I knew I had taken first in my class.
Your first will always be remembered and this truthfully was one of my most memorable experiences thus far within my competitive career. I would like to give my many thanks to Murph, for assisting me in making weight and keeping me in good spirits. Andrew, for clarifying on how to properly take my warm ups and to Gary Valentine, for hosting such an event. I look forward to more challenges in the future and hope to make it in 2020 just in time for the games! For now, it's back to the drawing board and hopefully never back to cutting such an inordinate amount of weight in such a short time period.
-Julian M. Vega, 77kg Olympic Weightlifter

Good Luck Alyssa: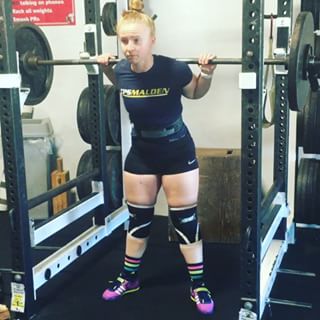 Alyssa Frey of TPS is lifted this weekend at USAPL Winter Classic in Scituate, MA in the 63kg Raw Open division.
More info about the meet is here.

We'll send an update when she lets us know all about it.
TPS has a bunch of lifters competing at the Arnold Classic Sports Festival in Powerlifting and Strongman.
The Arnold Classic is a weekend long festival that takes place in Columbus Ohio every year and is one of the most prestigious events in the world. They have everything in the fitness field there. There are strength contests ranging from Weightlifting to Grip to Strongman and everything in between!
Athletes must qualify or be invited to many of these events.
I know that Brittany Diamond will be doing the Strongman, Zach DiCostanzo is powerlifting and everyone's darling, Jane "The World's Strongest Granny" Stabile is also powerlifting at the XPC Finals.
We expect big things from all of our lifters and will give you full details on their performance after the event.
Wish them luck.