Lots going on this month!
We had a crew of lifters compete at the USAPL New England Spring Classic last month.
Sadly, I don't have results for everyone, but I'll be happy to share what we do have.
Wu Hui had an awesome day.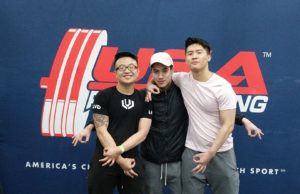 Wu placed 5th out of 12 lifters in the 83kg open weight class, and also placed 3rd for the best teen lifter.
His best lifts were a 391 Squat, 264 Bench, and 435 Deadlift for a 1090 pound at 177 pounds actual body weight. Great things are coming for Wu as he matures and gets stronger.
Alex Martinez also competed.
He lifted in the 83kg class and took 3rd place in the class. Alex totaled 1123 pounds.
He's another one we expect big things from as he gets older and stronger.
We are very proud of both of these two young and promising lifters and all of the other TPS members who competed at this meet.
Rikky Patel Killed it at the USAPL Winter Classic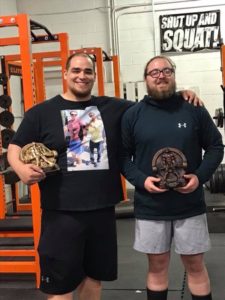 In the Strongman arena, TPS had a good showing at the 2018 Connecticut's Strongest Man & Woman at our good friend Matt Mills' Lightning Fitness.
Corey Bacigalupo did his first show and took 3rd place.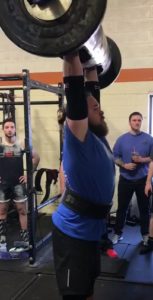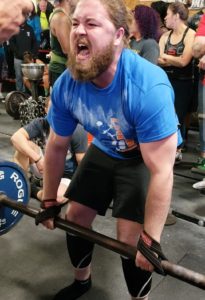 LOG: 180lbs – 8 reps (5th)
Axle Deadlift: 400lbs – 12 reps (4th)
Yoke 50ft x 50ft: 450lbs – 17.28 seconds (5th)
Farmers/Sandbag 50ft x 50ft: 200lbs/200lbs – 15.24 seconds (Tied 1st)
Stones: 180lbs-240lbs: 13.39 seconds (1st)
Hitting the top 3 in your first show is nothing to sneeze at!
Lucas Brum took 1st place in his class, the Heavyweight Open.
That's all the details I have on him, but that's pretty badass.
Kristen Dye did her 1st show and she took 2nd in the Heavyweight Novice class.
Instead of me telling you how great she did, enjoy the video!
And in another show the same weekend, the Mass State Strongman Championships (not ours, a different federation) we had Mike Proctor took 3rd place in his class.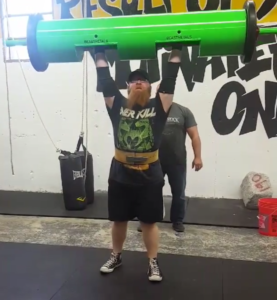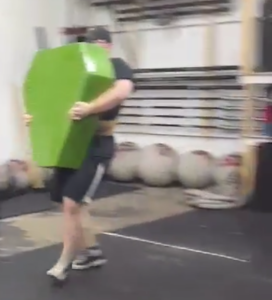 Mike didn't provide too many details but he did send some awesome pictures.
We are very proud of all of our members.
Remember, we don't care where you compete, or what you compete in.
We care that you do.