Lauren Arsenault
TPS Front Desk Team member Lauren Arsenault competed in the Titan Barbell Clash of the Titans on August 12th.
Here is how she did in her own words:
On Saturday August 12th  I competed in the Clash of the Titans in Burlington, MA in the Lightweight Open Class (under 140lbs).
It was a Strongman Corporation contest and my sixth strongman competition.
I was in a stacked class of strong and experienced athletes and I was proud to have placed third.
First event was log clean and press of 120lbs and I got 7 reps.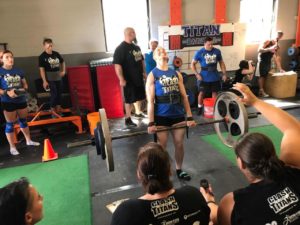 I pulled 18 reps in the 13" deadlift which was good for second place.
The duck walk was 250lbs for 60' and I placed third.
The yoke run was only 30' but was a staggering 500lbs. Finishing the event was a personal best and got me 4th place.
The final event was Stone of Steel over bar with 140lbs and I completed 12 reps which was good for third.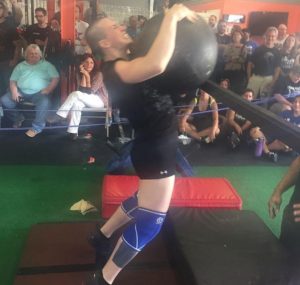 My results reflected my training and I feel that it was my most successful performance to date. My mindset as a competitor has greatly improved as I only focus on what I have control over. Success in strength sports comes when you trust the process and have patience as you push to improve.
Tough Mudder Superstars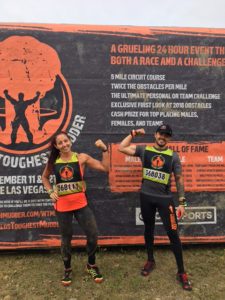 Melissa Sirin and Javier Escobar are two of our members who are like OCR race royalty.
They are badasses!
Both of them just did a huge race in August, the Northeast Tougher Mudder in Louden, NH.
This is the competitive, timed division of the Tough Mudder, usually the normal Tough Mudder is open and untimed but this year they started the competitive Tougher Mudder heat which they did.
Javier placed in the Top 10 for males and Melissa placed in the Top 5 for females.
That is awesome!
USAPL Northeast Powerlifting Regionals Recap
Team TPS had a big weekend competing at the USAPL Northeast Regional Championships on August 19th and 20th.  Kerry Sachs was the first to compete on Saturday August 19th at the Holiday Inn in Marlboro, MA.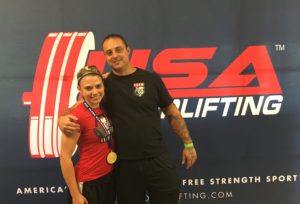 Kerry has been coached by TPS coach Kevin Cann since September of 2016.  Kerry performed extremely well, coming in first place in the 52kg (114lb) weight class with a 711lb total.  This total ranks her 25th in the country in the USAPL lifting database and a Wilks of 409, which ranks her 21st.
Kerry went 8 for9 only missing her 3rd attempt bench press.  Her best lifts for the day were a 253lb. squat, 121lb. bench press, and a massive 336lb. deadlift.  Kerry's squat was a 22lb. PR, Bench was a 6lb. PR, and deadlift matches her all-time best.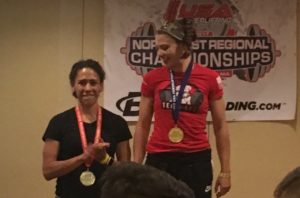 Kerry competes next at USAPL Raw Nationals in Orlando in October.
Nick Santangelo kicked things off on Sunday.  Nick has been coached by Kevin Cann since January of this year.
Nick hit an all-time PR total of 1549 at an all-time low bodyweight of 203lbs. for an impressive 442 Wilks score and a second place finish.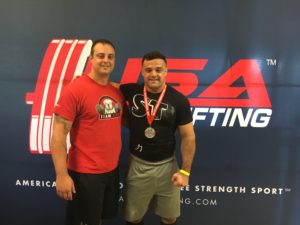 Nick also went 8 for9 missing his 3rd attempt bench press.  Nick hit a 606lb. squat and 364lb. bench press and a 573lb. deadlift.  Squat was a 21lb. PR and deadlift was nearly a 50lb. PR at that bodyweight.  Nick competes next at USAPL Raw Nationals in Orlando in October.
Check out Nick's interview below.
TPS coach Kevin Cann also competed on Sunday. 
Kevin weighed in at 213lbs. and went 9 for 9 hitting a 22lb. PR on the squat of 418lbs., 6lb. PR on the bench of 303lbs., and a 513lb. deadlift for a PR total of 1232lbs.
Kevin will be coaching a group of lifters at USAPL Raw Nationals and plans to get back on the platform after that.
Danielle Bond also competed and killed it.
See her interview below.
RPS Powerlifting:

Sabra Mitchell, coached by Murph returned to the platform after a disc injury about a year ago.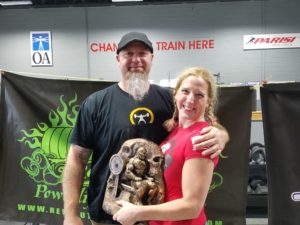 She lifted at the RPS Vermont Push Pull Championships.
She was a RAW lifter but is transitioning to multi-ply and we opted for a Push Pull to see how her body reacted.
She went 6 for 6 on her lifts. Bench press was 155, 165, and a final 175.
On the deadlift, she had an even more impressive performance.
All three attempts were RPS World Records in her class, 148 Masters Female Multi Ply.
She smashed a 365 opener, a 390 second and destroyed a 405 third attempt.
Next up for her is a full power meet in the Winter.
Check out her lifting below.