Carlos Moran is lifting this weekend at the TPS/RPS meet and is looking for a 2000 pound total.
I think he can do it!
Nick Cambi is on fire.
Watch the video below:
Lodrina Cherne had a busy month.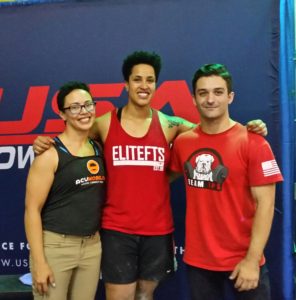 You can see below in here own words.
In the past month I attended a number of meets to help out, cheer, and finally compete myself.
At the end of August I was able to run numbers for Mickey at the Newport Open in Rhode Island. Zach also helped out and we both got to see her qualify for USAPL Raw Nationals coming up in Atlanta. Day two of the Newport Open was watching my husband Jeff handle his training partner and TPS member Nick Spinosa at his first meet going 8/9, also qualifying for Raw Nationals.
Then in September I competed in the USAPL Bench Press National Championships in Aurora, Colorado.  I lifted equipped and placed second in the 63kg division with a best press of 92.5kg.
As a new equipped lifter, I picked this meet to focus on spending more time in a shirt and learning more about the training process. It was also an opportunity to test my knowledge through teaching, showing Jeff who was handling me for the first time in gear how to get me into the shirt and warmup in the back room.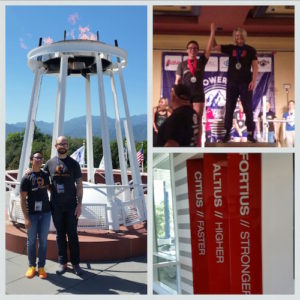 With a quick meet we were also able to take advantage of being out in Colorado for the weekend with a tour of the Olympic Training Center and rock climbing in Colorado Springs. This was a great way to learn more about training and then finally have some fun displaying strength in a different way.