My coach, Boris Sheiko, has instilled in me that technique is the most important aspect of training from Day 1.
This means that technique is even more important than the weight on the bar to get strong.  I watched him in training make elite level lifters use nothing more than 95lbs on a squat until that squat looked the way that he wanted.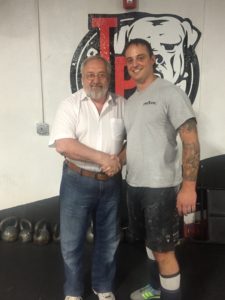 This was really eye opening for me as both an athlete and as a coach.
It led me down a path of trying to understand why this is the case.  Surely, we need to lift heavy in order to get stronger.  That part is true, we do need to lift relatively heavy weights in order to prepare us to lift maximal weights on the platform.
From analyzing 34 world champions, and from 25 years of experience coaching world champions, Sheiko found that the best intensity to train at was an average of 70% plus or minus 2%.  This includes all reps completed at 50% or higher in training.  Training very rarely occurs at higher intensities than 85% of 1RM.
This is the intensity that the athlete begins to slow down to complete each repetition.  Higher than 85% of 1RM is also the intensity where the athlete's technique begins to fall apart.  If we are going to lift at intensities of 90% or higher we will alter the movement in a way to keep the technique the same as all of the other reps.
For example, boards and the Slingshot on the bench press can be used and blocks for the deadlift.  The goal of training is to create a stable movement pattern.
In the translation of Sheiko's work this is known as "extrapolation."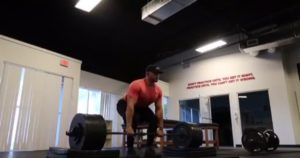 The 3 competition lifts are each their own motor patterns.
We want to train the same motor pattern over and over so that the athlete becomes extremely competent in that pattern.  We challenge these movement patterns with different weights and variations so that the athlete becomes a master at handling them.  This gives the athlete the ability to carry out these movement patterns with heavier weights.
If we complete a set of 5 repetitions and all of the repetitions look different, than we have trained 5 different motor patterns. 
This will not lead the athlete to become proficient in the movement.  This movement pattern is unstable and will only continue to breakdown more under heavier weights.
Sticking points in the lifts may not be the result of weak muscles as is commonly believed.  They may be the results of poor neuro-muscular coordination from the athlete.  I have seen this proven with my own experiences.
For example, we dropped Kerry's deadlift training max around 40lbs.
We focused on consistently training in the correct positions.
A few months later she hit an all-time PR of 340lbs at 114lbs bodyweight.  Six months earlier she only hit 297lbs at her competition.
The strength was there, but the technique was poor leading to a less than optimal performance.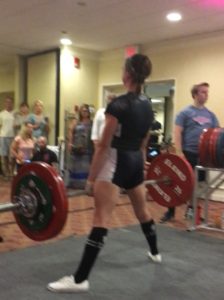 She did not lift more than 245lbs on the deadlift during this time.
This was only 72% of her best ever lift. Instead of focusing on adding more weight to the bar, we focused on increasing her neuro-muscular coordination within the movement.
The results speak for themselves from there.
This does not happen overnight.
The athlete must be willing to work and put their time and max effort into training.
It takes longer to see the positive results of training when technique is the emphasis.
However, the ceiling for the athlete becomes much larger when they focus on their technique.
With strong motor patterns it will take heavier weights to break them down.
Also, the athlete will be at a lower risk for injury.
Training with proper technique requires the athlete to utilize appropriate intensities and volumes.
This keeps them healthy and in the gym training.
Too often athletes lift too heavy too much and they are forced to withdraw from competitions or miss training time.
Over time this missed training adds up and lowers the overall performance ceiling of the athlete.
Training like this also can be difficult for some because it does not look impressive on the social media accounts.
It takes a dedicated athlete with strong long term goals to see the benefits.
In today's era this is not so easy.
Written By: Kevin Cann
©totalperformancesports.com