USAPL Raw Nationals
TPS has two lifters compete at the USAPL Raw Nationals in July. The Raw Nationals is the national championship for powerlifters who do not use supportive gear like squat suits or bench shirts.
It's just them against the bar. Lodrina Cherne, coached by TPS's Kevin Delaney and Mikelina Belaineh, coached by Mike Tuchscherer both had tremendous showings at the National level.
Both of our lifters WON!
First up is Mickey's results: She weighed in at 70 kilograms (kg.) and hit some huge lifts.

Squat: 155kg (341 pounds)
Bench: 85kg (187 pounds)
Deadlift: 187.5kg (412 pounds)
Total: 427.5kg (740 pounds)
That is AMAZING!
Mickey competed in several different divisions and won 1st place in the juniors, 2nd in Open (to Kimberly Walford, reigning world champ for the past 3 years, and Best Junior Lifter. She had the Wilks coefficient of all the Junior lifters at the meet (guys and girls).
She also set a Junior American Record in Squat, Deadlift, and Total.
Lodrina's results (from her):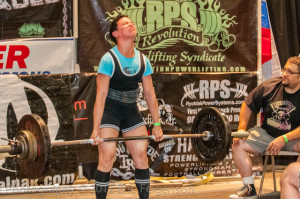 Note: Lo is coached by Kevin Delaney of TPS and in my opinion, he is arguably one of the best coaches in the USA (Murph).
I weighed in at 123 pounds, best lifts:
Squat 120kg (265 pounds)
Bench 72.5kg (160 pounds)
Deadlift 155kg (341 pounds)
Total 347.5kg (766 pounds)
It was a close battle for the top and meet day I stood on the podium to receive a silver medal.
In an amazing and incredibly gracious show of sportsmanship, I received a call from the gold medal winner after getting home.
She called after realizing she was incorrectly scored for a heavier squat than she performed, so instead of losing by 2.5kg, I won by 2.5kg.
I went to Denver to find the deepest field in my weight class and came away very excited about the caliber of women with whom I shared the platform. I've qualified for the Arnold and (because of the win) Worlds in Finland next year and am grateful for the opportunity to complete again at these higher levels.
Huge thanks to so many people who were there for me on meet day and everyone who's supported me along the way.
More STRONG Ladies:
Kelly Alice Robinson competed in the Ladies Lift Here strongwoman contest in Lancaster, Pa. on July 6th.
She took 3rd place in the heavyweight category and hit a bunch of PR's with the help of TPS Coach Phil Rago!
Congratulations to Kelly!