We are in the middle of the worst part of Winter right now and that is the BEST time to get strong and jacked.
People usually piss and moan about Winter (I never get that, we live in New England) and they complain about how it sucks to do anything outdoors.
Unless they are skiers!
I've always felt, especially when I was younger, that Winter was the best time to live at the gym.
I am not an outdoorsman who likes Winter stuff, but I do like beating the shit out of my bike in the warm weather-so this time of year meant smashing weights in the gym.
No snow biking for me.
I suggest that if you are of similar mind and are not crazy about being outdoors in the freezing weather but you want to be jacked and strong, spend more time in the gym instead of on your phone/tablet/tv indoors.
Grab an extra session or two.
Little bits go a long way.
Adding an extra day of bodybuilding style work on lagging areas pays off. It won't interfere with your program either if you follow one.
It can be done in manner that actually improves your lifting on the platform if you compete.
I'll let you in on a secret, ok, it is not a secret. It's pretty well known to those with from generation and background of training.
Sled Dragging.
It works wonders.
You can work almost any muscle group/movement with a sled that you can do with a barbell/dumbell and it actually helps your recovery if you do it at the right intensity.
Sled dragging has no eccentric component, and it is shown to reduce muscular soreness after hard training and to build GPP (General Physical Preparedness, a fancy term for being in better shape).
How to do it?
Just grab a sled and hit the Turph and tug at it.
If you want to bring up your lower body, drag it forwards, backwards and laterally.
If you want to bring up your upper body, press it, row it, curl it, tricep extend it and so forth.
You don't need to go too heavy either.
The idea is that submaximal weights done for longer times flushes your muscles with tons of blood, decrease soreness, helps build strength and improves conditioning.
I can tell you that this is correct.
Doing an extra session or two a week for 10-25 minutes will do all of these things if you are consistent.
It is pretty low nervous system work so it doesn't affect your main lifts, and it is easy to do and hard to mess up.
That sounds like a winner to me.
So, the next time you are thinking that you want:
To be stronger
To be in better shape
To have more muscle mass
To be less fat
To be less sore
Get off the couch, head to the gym and drag a sled.
You'll be happy you did in a few months when you see the results of spending an extra 20-60 minutes training and recovering instead of lounging on the couch.
Give it a shot.
You won't be sorry.
Thanks,
Vinceri vel Mori
Murph
and
TeamTPS
"I don't always get shot during the middle of a speech, but when i do, I finish the damn speech."
Theodore Roosevelt
New Articles:

Mobility for Law Enforcement: What do you need?
From the Archives:
Floor Press Tips to Smash More Weight on the Bench Press
Murph's Interview with Boris Sheiko Part 1
This is an awesome interview with a legend.
Boris talks about how he is excited to use many new pieces of specialty equipment when he gets back to Russia. 
He saw these here at TPS for the first time and learned all about their use when he visited Westside Barbell and sat with Louie Simmons.
Why doesn't Sheiko use a lot of the equipment taht we have here at TPS and in the USA?
He doesn't have them in Russia, but he will soon.
Watch and learn. 
Andrey Malanichev is Coming Back to TPS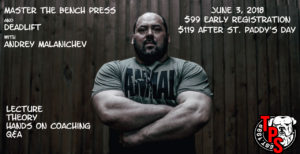 On Sunday, June 3, 2018 at 12:00 p.m., Andrey Malanichev is coming back to TPS to teach you how to Master the Bench Press and Deadlift.
The last time Andrey was here we sold out and I fully expect this one to sell out too!
If you don't know who he is, Google him.
Short version: Andrey is one of the STRONGEST people on the planet.
He is also a really nice guy.
In the Master the Bench Press and Deadlift seminar, Andrey will have:
Lecture
Theory of the lifts
How to design a program
Hands on coaching with each attendee
Q&A
We have set up an Early Registration price of $99.00.
To get this rate, you must register before St. Paddy's Day, March 17th.
After that the price goes to $119.
Either way, it's a bargain to get a chance to train with a legend.
ISSA CEU's will apply as well for those needing Continuing Education Credits.
Space is limited so be sure to register.
Broads with Quads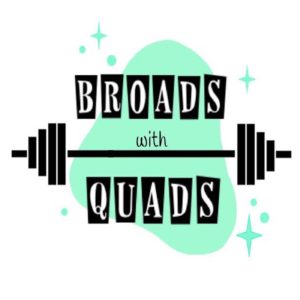 The TPS Method for Powerlifting Team has developed an entertaining and humorous Podcast detailing their experiences in the sport.
Their humble admissions of being amateur lifters in a sport where there seems to be an ever increasing amount of "experts" is indeed refreshing.
Of course, (without being asked!) they also do a stellar job of promoting Total Performance Sports, the gym's coaches and the gym's group programs by way of revealing their stories of injuries, fears, and the struggle of booty shorts in commercial gyms.
Look up Broads with Quads on the iTunes now!
The Kraken Files: Are You a Bulking Asshole?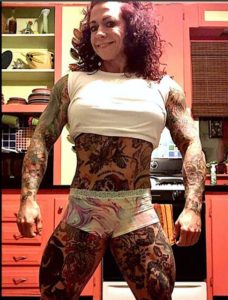 Steph goes more into diet and assholery this month with bulking mistakes people make.
It's another piece of internet gold.
I get a lot of messages online asking me about gaining muscle mass, or rather, issues people are having with "bulking" and gaining QUALITY mass.
I will ask a few questions, and pretty quickly I realize that all they are doing is dumping into their gullets MORE of the same crap food they have already been eating all along, expecting to turn into Ronnie Coleman overnight. This is rarely accompanied with a corresponding change in training intensity or focus, which likely won't matter much anyway if you are eating pizza, Ramen, and frosting-dipped Pop Tarts for every meal.
So this time around I am gonna go ahead and address this for the crowd with this month's entry……..
Are you a bulking asshole?
TeamTPS Athlete Updates: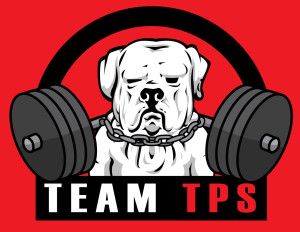 See what our athletes and coaches are up to here
Strongman Saturdays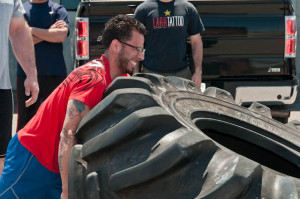 Strongman Saturday has been changed to quarterly for 2018.
The next one is April 14, 2018 and we are flipping tires.
The schedule for the rest of the year is as follows:
3rd Quarter:
July 14, 2018: Possibly Truck Pull or Log C&P
4th Quarter:
October 13, 2018: Super Yoke/Husafeld Stone
All welcome, beginner to veteran competitor.
Nonmembers welcome too!
Come and learn from the Pro's.
TPS has been coaching Strongman for 18 years. Use our experience to get better at your sport.
You do not need to be a member to attend.
Bring a friend with you if they train elsewhere, we love new people!
Beginners are always welcome too!
No experience is necessary.
Drop in and learn, have fun and get stronger.
Member Minutes: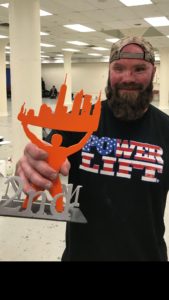 Tommy Block Strongman
Patria Jiminez Powerlifting
See how they did.
Training Day: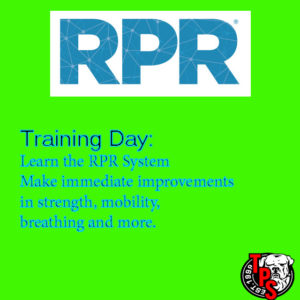 WOW! We have two Training Days this month.
The next TPS Training Day is Saturday February 10th at 10:30 a.m. and we are doing RPR with you.
If you are not familiar with Reflexive Performance Reset (RPR) and what is and can offer you, please read my Coaching Logs on it here,
and here. 
If you don't feel like reading the logs, here is a quick rundown on what RPR can do for you:
Implementing RPR techniques will:
Effect immediate improvements in breathing
Effect immediate improvements in performance
Effect immediate improvements in movement
Effect immediate decreases in pain
Effect immediate improvements in your ability to recover, intra workout, intra game and at rest
Effect immediate improvement in sleep quality
Drastically decreases risk of injury
Over a short amount of time it will improve mood, relaxation, state of mind and well being
We have gotten authorization from the RPR powers that be to host a Wake Up Drill course.
The Wake Up Drills are the foundation of RPR and we will teach you how to perform them on yourself.
A steady adherence to their use will pay dividends in your training quickly.
The key is that you have to do them.
Let us teach you.
The RPR Training Day will take about 90 minutes, and the daily drills only take about 5-8 minutes once you learn them.
And, the next week on Saturday February 17, 2018 from Noon-2:00 p.m. we are coaching the Bench Press.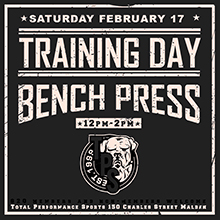 Bench Press Training Day will teach you how to:
Root your feet
Brace properly
Whether feet forward or tucked is right for you
Meet the bar
Chase the bar
Properly position your elbows
So much more
Training Day is for BEGINNERS to ADVANCED lifters as well as those who compete or wish to compete. No experience is necessary.
If you use gear, bring it with you. We will teach you how to maximize its use.
Training day is the best $20.00 you can spend on a Saturday afternoon if you are serious about your training.
And, don't forget about the Training Day/Strongman Saturday 5 Pack. You can get 5 visits for eaither service for only $80.00. That's 1 FREE!
You do not need to be a member to attend.
Beginners to advanced lifters are all welcome.
Please Arrive at least 15 minutes early to allow for registration.
Media Assault

Stay tuned to Muscle and Fitness magazine.
They just did a huge interview with me on the TPS Method: Training for Life.
It seems that the TPS Method is making a name for itself beyond TPS and M&F wanted to know more.
We told them.
I hope you read about it.