Well it's here.
January, a New Year.
January is the start of TPS's 19th year in business.
I can't believe it's been that long.
Thanks to all of you for making this happen!
And, with it being January, you now have a whole New Year to make progress.
As I've said before, since we "rebranded" back to our roots of STRENGTH, we don't really have the New Year crowd here anymore and that's good in a way.
Most of you are not the New Year's crowd. You are much more dedicated and serious about your training.
But, you can still take a look back at the previous year and see where and how you can make improvements for this new coming year.
I am not talking about resolutions.
They suck.
What I mean is to go back through your training logs, your programs, your life outside the gym, your nutrition and more and see what you can do better in 2018.
Here is an example.
For me, 2018 is the year I turn 50. I have decided that I will be in the best shape of my life at 50.
I've taken a good long look at my training, my nutrition, my programming and my recovery.
2018 will be more of the same path I have been on during the last half of 2017 (THANKS COACH CANDACE, and all of my TEAM) but with more direction, more dedication and more progress.
I have a few goals that I am not going to share, but will achieve.
To do this, I have a few smaller milestone goals to hit in order to reach the big ones.
And, I will not do it alone. I have a TEAM to help me.
You should too.
In 2017 I did a lot of things differently than I have been in the past.
I took my own advice about nutrition.
It worked.
I hit my goal of 240 pounds bodyweight. I've also added a few pounds of muscle which is not easy at my age.
I have also returned to the platform. I didn't do as well as I wanted, but I got back in the game.
I adjusted my outside the gym habits to recover better.
The biggest change I made was setting a "drop dead" bedtime of 10:00 pm.
Getting an extra hour or so of sleep has paid off in huge dividends as far as recovery goes.
As we progress into 2018, I'll keep looking at where and how I can make more positive changes in my training and life to make 2018 the year I am in the best shape of my life.
I suggest that you do the same.
Don't set resolutions.
They never work.
Look back at 2017 and see how you can make small changes over time.
Small changes add up to BIG changes if you keep doing them.
What you decide on is up to you.
It could be better nutrition, better programming (we have those covered for you if you need it), more sleep, and extra day of training or whatever you think you need to make 2018 better than 2017.
Take a little time and look back at the previous year.
See where you can make some changes.
We are here to help if you need it.
Now go and get after it.
Thanks,
Vinceri vel Mori
Murph
and
TeamTPS
"A healthy-minded boy should feel hearty contempt for the coward and even more hearty indignation for the boy who bullies girls or small boys, or tortures animals. What we have a right to expect of the American boy is that he shall turn out to be a good American man. "
Theodore Roosevelt
New Articles:
Articles from Kevin Cann: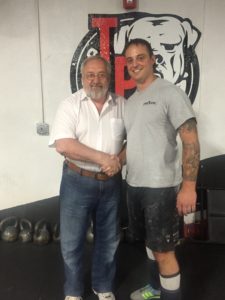 Malanichev at TPS: What the Russian Way Has Taught Me
A Few Thoughts on Long Term Planning
New Articles from Murph:

Strongman Stuff: 12/15/20 Squat Program-Get 'Effin Strong FAST
How to Lose 70 Pounds Without Dieting
A Christmas Gift to You: Free 8 Week PR Crushing Powerlifting Program + RPR Warmup
Free 8 Week PR Crushing Powerlifting Program Part 2
From the Archives:
Top 5 Assistance/Accessory Exercises for the Squat
Top 5 Exercises You are Not Doing
Broads with Quads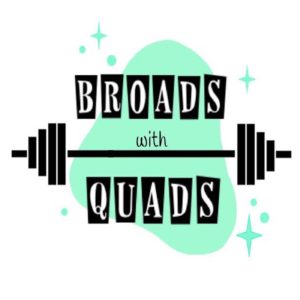 The TPS Method for Powerlifting Team has developed an entertaining and humorous Podcast detailing their experiences in the sport.
Their humble admissions of being amateur lifters in a sport where there seems to be an ever increasing amount of "experts" is indeed refreshing.
Of course, (without being asked!) they also do a stellar job of promoting Total Performance Sports, the gym's coaches and the gym's group programs by way of revealing their stories of injuries, fears, and the struggle of booty shorts in commercial gyms.
Look up Broads with Quads on the iTunes now!
The Kraken Files: STFU AND LIFT, PRINCESS, NO ONE CARES ABOUT YOUR BUTT-HURT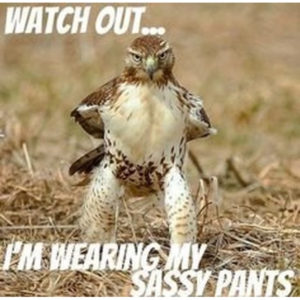 Recently someone I follow on Instagram and admire for his talent and coaching skill in powerlifting posted a rant on a subject I have bitched about in the past as well, and brought up some old themes that I thought were dying out but perhaps are still alive and well. So I figured I would wow you guys with my own rant about basically the same shit, in my own long-winded and rambling way.
So, this month, I bring you
STFU AND LIFT, PRINCESS, NO ONE CARES ABOUT YOUR BUTT-HURT
When I started powerlifting, I thought I was home.
Toys for Tots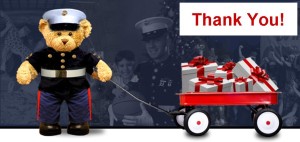 I'd like to thank all of you who helped us fill 4 huge boxes for Toys for Tots.
Every year I ask you to dig deep and give.
Every year you come through.
It feels good to make a small difference for good. We couldn't do this without all of you who helped us.
On behalf of TPS and the USMC, THANK YOU!
Boston's Strongcast: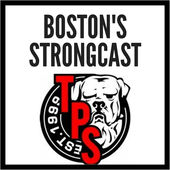 TPS Director of Strength and Conditioning, Kevin Cann and TPS member, Alyssa Frey are putting out a kickass podcast filled with tons of awesome content.
Give it a listen while you are driving, training or at work.
It's available on our website

and on iTunes.
We'd really appreciate it if you can give us a 5 Star rating on the iTunes too.
TPSMPL/PPS:
The TPS Method for Powerlifting is for if:
You need a coach
You want to compete
You want to train with a team of awesome people with similar goals
You are not making enough progress on your won
Need to make improvements on your technique
Are stalled in your current lifts
Are not recovering
Hired an Instagram coach
The TPS Method for Powerlifting also has a subgroup, run by Kevin Cann that caters exclusively to USAPL RAW lifters, Precision Powerlifting Systems.
PPS runs a Sheiko template implemented and supervised by Kevin.
PPS is filling up fast.
Want the most experienced Powerlifting coaches around?
We have them.
We have a few spots open right now.
If you are interested in smashing more weight with better form and getting a bigger total, email Murph now.
TPS Advanced Membership:
This is EXPLODING!
Why?
It works, and it is very affordable.
Here are a few comments from our Advanced Membership clients:
"I can't say enough good things about TPS Method Advanced Membership"
Michelle S
"Getting form and technique tips from multiple coaches on your videos is definitely worth the price of admission. Add to that all the responses to questions, being able to read and learn from other lifter's technique/questions and you're practically stealing from Murph!"
Shank
"I've been working with Kevin as part of the Advanced Membership program for 10 weeks and will be speaking on my experience through a powerlifting focused program. In the time Kevin and I have been working together my experience has been nothing short of outstanding."
Kyle J.
"I've been an advance member for about 6 months doing the powerlifting blocks.
Just PR'd in my first meet in 18 months and got first place in my division."
Maura W.
Our members LOVE it and you will too!
Do you train at TPS but get your programming elsewhere?
We've got something for you.
For less than you are paying now you can get your programming, access to our constantly evolving video library, access to our private Facebook page (where you can upload videos and get instant coaching, ask questions and more), sign in for open gym hours with our coaches to get HANDS ON FEEDBACK, and much more.
OR:
Do you need a program?
We've got that covered and more!
You can read all the details on our Membership page. 
Interested?
Shoot me an email now!
TeamTPS Athlete Updates: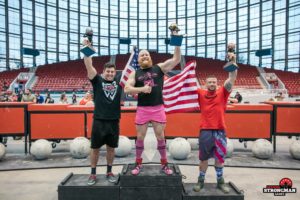 TPS Athlete Nick Cambi just competed at the World's Strongest Man Under 105Kg and he kicked ass.
Read all about his exploits here.
Strongman Saturdays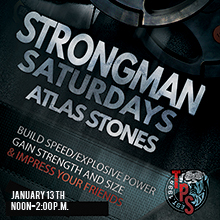 Changes for 2018: We are changing the Strongman Saturday schedule from monthly to quarterly for 2018.
Below is the 2018 Strongman Saturday schedule:
1st Quarter:
January 13, 2018: Atlas Stones
2nd Quarter:
April 14, 2018: Tire Flip
3rd Quarter:
July 14, 2018: Possibly Truck Pull or Log C&P
4th Quarter:
October 13, 2018: Super Yoke/Husafeld Stone
So, the next TPS Strongman Saturday is January 13th at 12:00 noon and we are lifting Atlas Stones.
If I have to tell you the benefit of lifting Atlas Stones at this point I'll be flabbergasted, but here goes:
Lifting Atlas Stones, besides being the most common event in Strongman carries over to just about everything else you do whether it is physical or mental.
Stones build strength, speed and power. Lifting stones improves conditioning and dynamic flexibility.
Lifting stones is empowering and awesome.
The strength you build transfers over to your squat, bench and deadlift too, as well as to sports and life.
If you aren't lifting stones, you are missing out!
All welcome, beginner to veteran competitor.
Nonmembers welcome too!
Come and learn from the Pro's.
TPS has been coaching Strongman for 18 years. Use our experience to get better at your sport.
You do not need to be a member to attend.
Bring a friend with you if they train elsewhere, we love new people!
Beginners are always welcome too!
No experience is necessary.
Drop in and learn, have fun and get stronger.
Please Arrive at least 15 minutes early to allow for registration.
Member Minutes: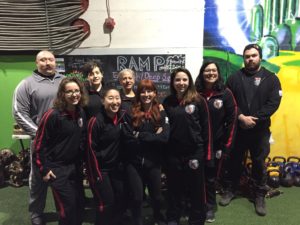 The Member Minutes section is the place to let us tell the world about how AWESOME TPS members are. I can't do this unless you tell me about your accomplishments. When TPS first started, I knew EVERY member and I knew what was going on. We have GROWN and, sadly, I don't know every member. The interweb can fix this. Shoot me an email and let me know about your latest event, whether it is an upcoming event or something you have completed—5K's, triathlons, powerlifting, or anything sports-related. We want to let the world know. Now, on to this month's accomplishments:
The TPS Method for Powerlifting team competed at the RPS 2017 Winters Wrath on December 2nd & 3rd.
We had some outstanding performance and progress from our lifters at this meet.
Training Day: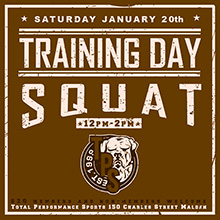 The next TPS Training Day is Saturday January 20th at noon and we are coaching the Squat.
This is always a good Training Day with lots of "Aha" moments for those in attendance.
If you've been to one of these, we have new cues, techniques and more in store for you.
I suggest that you come by again.
Attending this Training Day will show you how to:
Protect your spine by using your abs
Use Advanced Bracing Techniques
Keep your knees from caving in
Lock in your upper back to prevent you from falling forward
How to use advanced Rooting techniques to lock you into the floor and transfer more power to the bar
Proper foot spacing/position for your body
And much more.
Training Day is for BEGINNERS to ADVANCED lifters as well as those who compete or wish to compete.
No experience is necessary.
If you use gear, bring it with you. We will teach you how to maximize its use.
Training day is the best $20.00 you can spend on a Saturday afternoon if you are serious about your training.
And, don't forget about the Training Day/Strongman Saturday 5 Pack. You can get 5 visits for eaither service for only $80.00. That's 1 FREE!
You do not need to be a member to attend.
Beginners to advanced lifters are all welcome.