OK, I will be quick this month.
I've been too busy working on the new project we told you about a while back and it is shaping up.
We hope to announce the details by July and get you excited about it!
For now let's just say that it will have the quality you expect from TPS and a value based price to match.
It will also allow you to make progress faster than before.
Stay tuned.
And, Murph Beach is getting closer. We have a few small things to work out and hope to have it open before long.
You'll be able to get a tan and train at the same time.
Sunblock not provided.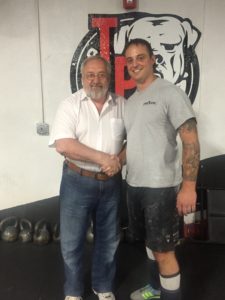 And even more: in only 2 days, Kevin and the Team are bringing the Sheiko System Explained seminar your way on June 3rd. It is ISSA CEU accredited for 8. You can use these for other certification agencies as well.
That's it for this month, short and sweet.
Read the rest for more cool stuff.
There are a few really good articles on training here.
Learn something instead of scrolling through Instagram!
Murph
and
TeamTPS
"People ask the difference between a leader and a boss. The leader leads, and the boss drives."
Theodore Roosevelt
Who Will Be Malden's Strongest?
It could be YOU!
Did you register yet?
On July 29th, we will be hosting the Malden's Strongest contest to benefit the Malden Housing Families charity, at Idle Hands.
It's like a mini Strongman contest.
Two events, then beer.
Events will be the:
Axle Clean and Press for maximum reps in 60 seconds
Axle Deadlift for maximum reps in 60 seconds
This event will be limited to 40 athletes in two weight classes each:
The entry fee is $40.00 per athlete. The fee is to cover the cost of t-shirts and trophies, AND the rest will go to the Malden Disabled Veterans, plus any funds we raise the day of the show.
Trophies will be awarded for the top 3 in each class.
This is perfect for all of you who train at TPS but don't compete at anything, or even if do.
Sign up and have fun. It's an informal contest, meaning unsanctioned. Jump in and help us raise some money for Housing Families in Malden, a local charity for homeless families. Then stay and have a few beers and some food.
It is going to be a great day.
Thanks to our sponsors too:
Geroge Ferrullo PC
ANC
MetRx
EliteFTS
Spud Inc
Bono Inc.
Pro Auto of Everett
We can't do it without them!
+++REGISTER HERE+++
Exciting New Seminar:
The Sheiko System Seminar:
Only a few spots left!
This Saturday!
TPS is hosting this all new seminar presented by Head Strength and Conditioning Coach Kevin Cann.
It will be held on June 3rd right here at TPS.
This is a two part seminar, with Part 1 being lecture and Part 2 being all practical.
You can register for one or both. (You must attend Part 1 to attend Part 2)
This seminar is capped at 20 attendees to ensure lots of individual attention during the practical.
Approved for 8 ISSA CEU's.
Do you want to make progress in your three lifts?
Be here!
Trainers and Coaches, attend a seminar and get CEU's while actually learning something you can apply to your clients tomorrow.
Full details on the TPS Seminar page
New Articles:
Articles from Kevin Cann:
New Articles from Murph:


Greatness Known, Greatness Lost: Dr. Squat Fred Hatfield
A LEGEND Lost Too Soon
Specialty Exercises to Build the Deadlift-WITH VIDEO
The State of the Industry Address Part 1
The State of the Industry Address Part 2
The Kraken Files: Overtraining?
This month, Steph goes over one of the biggest misconceptions in the training world.
What is it?
You've gotta read.
The last few months I have been on a gripe-fest bender of bone-picking with subjects likely more interesting to and applicable to women, i.e., last month's guide to social media posting for women, and the month before that, women and PED use, so before I get labeled a (gasp) feminist (stone her!), I figure I'll go back to bitching about gender-neutral subjects……like boobs. Psych!! You wish!! Actually, I am going to discuss something frequently written about, and some would call cliché, but I still find relevant, especially for the powerlifter……
OVERTRAINING, OR, KNOCK THAT DUMB SHIT OFF, YOU SOON-TO-BE-CRIPPLE.
Read the whole article below.
TeamTPS Athlete Update:
More news about our team of lifters.
See what's going on with Boston's Strongest Team.
Strongman Saturdays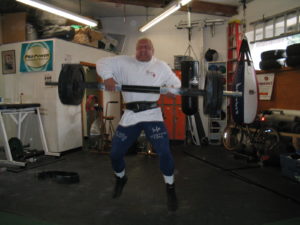 The next TPS Strongman Saturday is June 10th at noon and we are crushing the Axle Clean and Press.
Not only is this great to add to your training and fun, but it is an event at the 1st Annual Malden's Strongest Contest on July 29th.
Come on in and let us tune up your technique!
Come and learn from the Pro's.
TPS has been coaching Strongman for 18 years. Use our experience to get better at your sport.
You do not need to be a member to attend.
Bring a friend with you if they train elsewhere, we love new people!
Beginners are always welcome too!
No experience is necessary.
Drop in and learn, have fun and get stronger.
You can register for the next Strongman Saturday here
or at the Front Desk the day of.
Please Arrive at least 15 minutes early to allow for registration.
Member Minutes:
The Member Minutes section is the place to let us tell the world about how AWESOME TPS members are. I can't do this unless you tell me about your accomplishments. When TPS first started, I knew EVERY member and I knew what was going on. We have GROWN and, sadly, I don't know every member. The interweb can fix this. Shoot me an email and let me know about your latest event, whether it is an upcoming event or something you have completed—5K's, triathlons, powerlifting, or anything sports-related. We want to let the world know. Now, on to this month's accomplishments:
Anitra Kloczewiak just competed at the Connecticut's Strongest Man/Woman on April 29th, 2017 at Lightning Fitness.
She took first place in the Heavyweight Novice class
Tons of stuff on the Member Minutes Page Below
Training Day:
The next TPS Training Day is Saturday June 17th at noon and it is time to Squat!
Squatting is the single most effective exercise in the world.
Period.
Squatting gets a bad rap from doctors, the media and a bunch of 123 pound, 14-year-old Instagram gurus with flat brimmed hats cocked to the side.
Pay them no mind. The human body was designed to squat.
Squats are safe effective and awesome when done right.
Join us at Training Day and let my team of professional Strength Coaches teach you how to:
Learn to Squat Properly
Determine how wide your feet should be
Determine where YOUR hands should be
Not get trolled by QSG
Protect your spine by using your abs
Keep your knees from caving in
Root like an Oak tree
Prevent hip impingement
Lock in your upper back to prevent you from falling forward
Keep the weight where it needs to be at each point in the lift
Be more awesome
Squatting is very technical but we will teach you to be better at it! Learn the tips and tricks we teach our clients and athletes.
Training Day is for BEGINNERS to ADVANCED lifters as well as those who compete or wish to compete. If you use gear, bring it with you. We will teach you how to maximize its use.
Training day is the best $20.00 you can spend on a Saturday afternoon if you are serious about your training.
You do not need to be a member to attend. Beginners to advanced lifters are all welcome.
Register online here
Please Arrive at least 15 minutes early to allow for registration.