Hello again everyone,
Winter is ending and Spring is almost here.
We've got a few exciting things for you for the warm weather this year!
First, in an effort to continue pissing excellence, we've launched the all new Advanced Membership.
It will get you in PEAK shape for the upcoming Speedo season.
Details on that a little later down the page.
Second, when Spring gets here we will be opening the ALL NEW Murph Beach 1&2.
WTF you say?
TPS has always had the option of outdoor training.
We did it before it was cool because we had no space and had to do Strongman outside, even in the snow.
Training outside has been challenging in this location, but don't worry!
You will be this year.
We poured two concrete pads in each parking lot last year.
They needed to cure for a few months before we could start lifting on them.
It's been a couple of months.
So,
We will be getting them set up to roll by Spring!
One side (Canal Street) will have a second stone box with stones and the Viking Press/Conan's Wheel.
The other side (Commercial Street) will have a Power Rack and Deadlift platform.
Get ready to wear your shorty shorts and get all tanned up while you get JACKED.
We hope to have these ready to roll by May 1st, depending on the weather and how much we can get done before them.
I hope you all love it!
Murph
and
TeamTPS
"If you never cross the line, you don't know here it is."
The Unpredictable Mikey Capobianco
St. Paddy's Day Swag is on the Way!

We expect the all new design TPS/Jameson Bottle swag to be in any minute now!
We have:
Hoodies
Zip Hoodies
Ladies cut t's
Regular t's
All coming in.
These are limited edition and when they are gone, they are gone.
They also sell out every year, FAST.
Look sharp this year.
Everyone's Irish on St. Paddy's Day.
New Articles:
Articles from Kevin Cann:
Why Large Deficit Deadlifts are Great for Improving Mobility
A Biomechanical Analysis of the Squat: Valgus Collapse (Knees Caving In)
New Articles from Murph:


Quick Tip: How to Get Strong(er) in Two Seconds
Strongman Programming Close to a Competition: Trust the Taper
THE Guide to Handling Lifters at the Meet
The Kraken Files: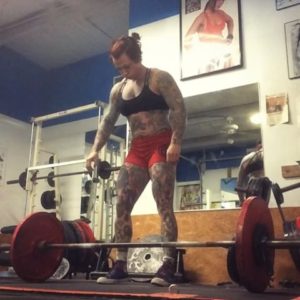 Steph's right this month.
If I've learned one thing in this sport: No one cares how much you lift, as long as you lift.
Go and do a meet. It's awesome.
The "Aspiring Powerlifer" or, Don't Be That Guy
I've been powerlifting for almost five years, which is baby time compared to some other lifters who have been at it for decades, but I still have managed to form an opinion on the current trend of those calling themselves "aspiring powerlifters".
In this month's scintillating column I will cover who these lifters are, and why they usually refer to themselves as "aspiring" and also the harsh truth about why aspiring in powerlifting is basically getting you nowhere.
You're Gonna Love This!!!!!
Our all new Advanced Membership is here.
What is it you ask?
Well, it's a step above the Basic membership, but right in between getting Personal Training or Online Coaching.
The Advanced Membership features:
Professionally written programs for:
Powerlifting
Getting jacked and Ripped (think TPS Method)
World class strength (think TPS Method)
Limitless conditioning (think TPS Method)
and
Low price
Access to our Video library
Use of PT room when no Premium services are going on
Coaches available during scheduled hours to assist you with form/technique
If coaches are available during other times not on the schedule they will assist you
Private Facebook page with chats, video analysis of lifts and more
You can read all the details on our Membership page.
You cannot just sign up for this. We must meet with you in person as it is not for raw beginners.
You must have some training knowledge!
The best part: the Advanced Membership is normally $125 per month, but it is priced at only $99 right now.
This includes your gym membership.
$50 bucks extra per month gets you a program each month, hands on coaching, a private Facebook group where you can post your videos for feedback and more!
You can get all of this for about half the price of a cup of coffee a day.
That's value.
TeamTPS Athlete Update: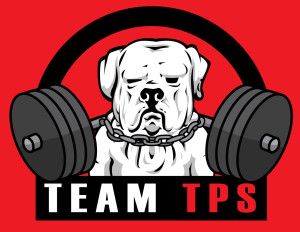 We've got a few updates for you this month.
Read about what Boston's Strongest team is up to this month here.
Strongman Saturdays
The next TPS Strongman Saturday is March 11th at noon and we are pressing the Circus Dumbell.
The Circus Dumbell or Giant Dumbell is one of the coolest things we have in the gym.
It's also one of the hardest things in the gym to press.
There is a lot of technique to getting it right!
Join us and learn:
How to clean it
Where to put it once it's at your shoulder
How to use your traps to start the press
How to bend under it
Much more
Come and learn from the Pro's.
TPS has been coaching Strongman for 18 years. Use our experience to get better at your sport.
You do not need to be a member to attend.
Bring a friend with you if they train elsewhere, we love new people!
Beginners are always welcome to! No experience is necessary.
Drop in and learn, have fun and get stronger.
or at the Front Desk the day of.
Training Day: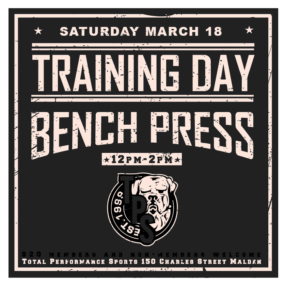 The next TPS Training Day is Saturday March 18th at noon and it is time to Bench Press!
The awesome thing about Bench Press day is after you have attended, when someone says "howmuchyabench", you can reply "more than you because I learned at TPS".
The Bench Press is a favorite of many for many reasons, but I think it is mainly because you get to lie down while you are working out.
Seriously though, I would argue that the Bench is the single most technical lift that you can do with a barbell. Many will say I am wrong and that it is the Snatch. To them, I say they don't know how to Bench.
I know how to do both and will tell you the bench has more going on than any other lift.
Attending this Training Day will show you how to:
Bench more
Use your lats to stabilize the weight
Shorten your stroke to press more
Use your lower body to press more
Arch properly
Where to position your elbows for the biggest press
And so much more.
Training Day is for BEGINNERS to ADVANCED lifters as well as those who compete or wish to compete.
If you use gear, bring it with you. We will teach you how to maximize its use.
Training day is the best $20.00 you can spend on a Saturday afternoon if you are serious about your training.
You do not need to be a member to attend. Beginners to advanced lifters are all welcome.
Media Assault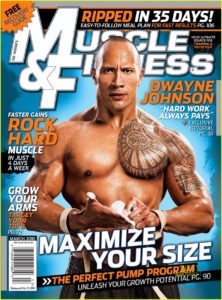 Keep an eye on Muscle and Fitness.
Over the next few months you'll see I've been writing away for Muscle and Fitness.
I just finished three pretty big articles for them.
Want to know what they're about?
Well, one is pretty unique and has enough volume in it to either kill you or get you JACKED, one is on belts and knee sleeves and their proper use and the last one is a full workout designed to get much more jackederer in a month.
Grab a copy every month just to be sure you don't miss them.