Caroline Lombardi will be kicking someone's ass.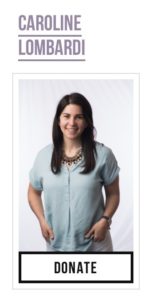 I got this email from long time TPS member and all around AWESOME person, Caroline Lombardi:
Wanted to give you some info on the fight. The event is held by a group called Haymakers for Hope and all of the money raised goes to Dana Farber.
I just started training on Monday, I will be training with Derek Shea out of the South Boston Boxing Club, he seems to really know his shit.
I have four moths until the fight, which is on October 5th at the House of Blues, it normally sells out and has around 2000 attendees.
In August, I will find out who my opponent is and spar with them. They will also hold a media day and shoot a promotional video of me, it would be great if you could help me share the video once it is out to all of your social media peeps.
Below are a few links to give you some more info.
Sample Promo Video and Fight, this was from when my brother did it, he is in the grey tank:
Let me know what you think, and start praying that I learn how to box and don't get TKO'd
I am sure she will do well!
Victoria Corriea of the TPS Method had a great season this year in Softball after training with us for the winter. She was selected for the NEC All Conference Team.
Congratulations Victoria.